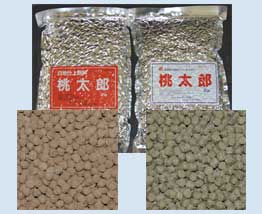 Yume Nishikigoi are exclusive agents for Momotaro Koi food. This food is highly acclaimed in Japan because of the quality and freshness of its ingredients, and because of the packing methods that enable an extremely long shelf life.
Two types are available, 'White part' (above left) which isa 52% protein growth food, and 'Colour up' (above right) which has a protein level of 36%, and uses the best quality Spirulina (10% content). Both foods are also seaweed bound, and utilise other ingredients that stimulate good health, and aid digestion.
The food is available in 2kg Nitrogen vac packed foil bags and costs £27 for 'White part' and £32 for 'Colour up'. Savings can be made by purchasing a box containing 4 bags of of food, at £100 (White part), and £120 (Colour up).

This is the very food that Momotaro used to raise the 101cm 2002 All Japan Sanke, and the 92cm 5 year old Kohaku, "Seio".