Tategoi Challenge 2010 sub 700 winner
Thursday, 17 June 2010 12:05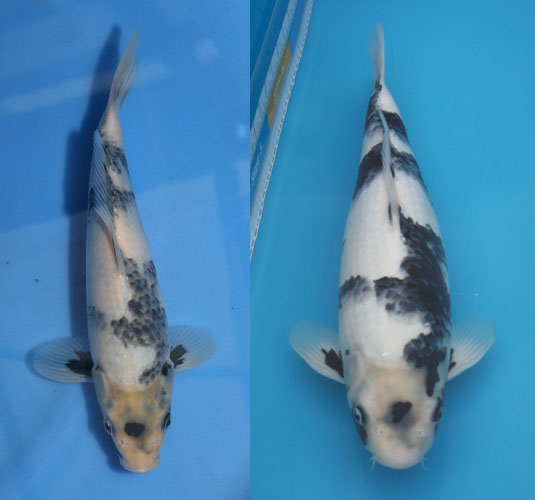 Yes, it's that time of year! Congratulations to Michael H, whom I haven't told yet. I'm going to see how many hours it takes for him to find out by 'word of mouth' ;-)  I have been running a tad late with the judging of this years winners, but the sub £700 class is decided, with this years winner being a stunning Omosako Shiro Utsuri, owned by Michael. This Koi arrived in Spring 2009 as female Tosai of 23cm. As Nisai she measured 45cm when the photo was submitted to us in March. And yes, this Koi does look every bit as good as the photo! She has a wonderful body type now as Nisai, with a graceful bodyline, that blends nicely into a strong tail tube. If you aren't careful with choosing Shiro Utsuri, the bodyline can often become too female looking, or have flat spots on the side of the Koi instead of a smooth curve. As you can see, this isn't an issue with this Koi. This Shiro Utsuri has beautiful thick white skin, and Sumi that holds great promise for the future. One thing that I think is of paramount importance with Shiro Utsuri, is to have white ground that is completely free of any scattered scales of Sumi, and in this Kois case, it is simply perfection! Add to this, the beautifully balanced Motoguro, which is very refined, whilst leaving the first ray free of Sumi, and what we have is a Koi which I think is simply sublime! No pressure on Michael, but I hope that she becomes good enough and big enough to feature on our Gallery pages in the next year or two...
Michael's prize, is a Koi or goods up to the value of the £550 original purchase price of this Koi.
As for our 'Unlimted' class... the winner will be decided in the next few days, but at present, it is a close call between four Koi. More on this later...