Latest News
Monday, 23 March 2015 09:28
Yes, it's that time of year already! I'm currently in Japan, hunting for good Tosai! Please take a look at our 'Fish' pages for new additions. If there is something special that you are looking for, please email me or drop me a line on my Japanese number +81 8042666949.
Many thanks, Mike.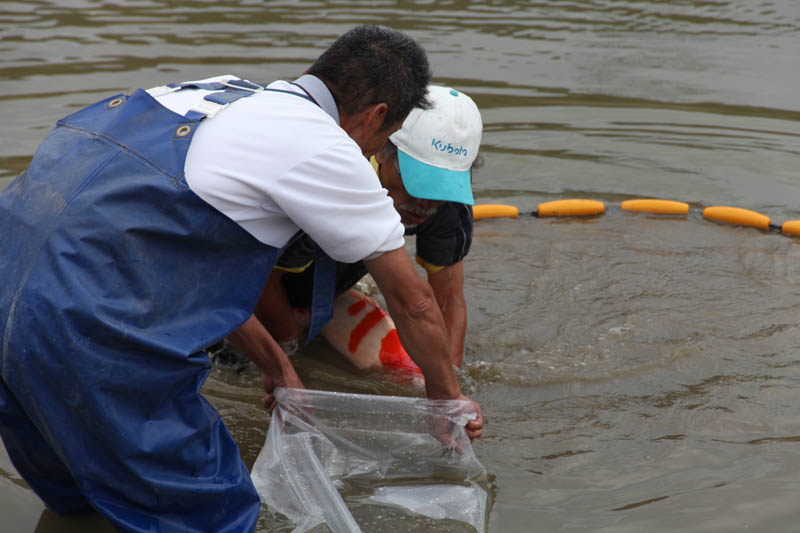 European Shinkoukai Koi Show, new Koi, and BKKS National...
Friday, 10 May 2013 17:20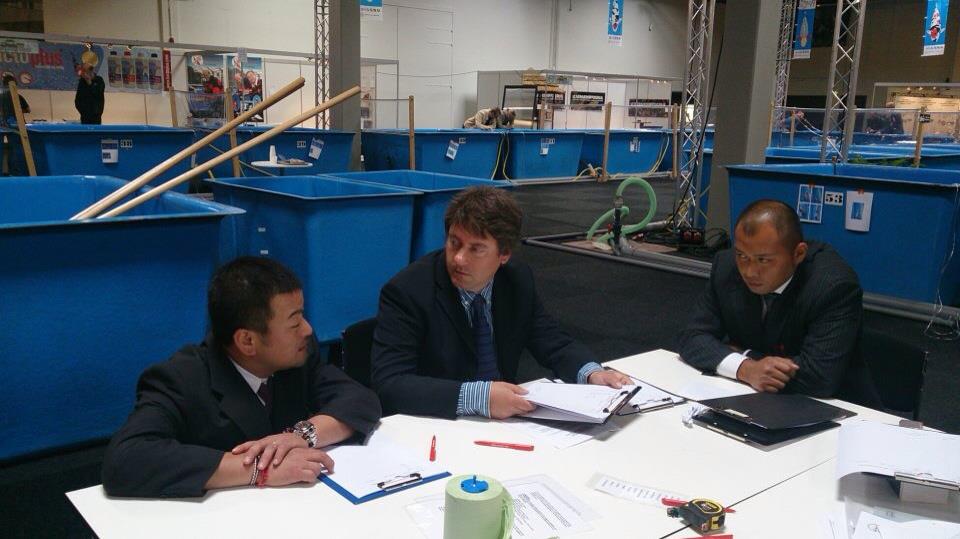 First off, the new Koi arrived on Wednesday, and are doing well. These Koi include two Tosai that have been donated by Matsue Koi Farm, and Omosako Koi Farm for the BKKS National Koi Show, which will be held on June 22/23rd. We have shipped back the rest of the Auction Koi in a separate shipment this evening, which will be quarantined and taken to the Show by Koi Collection in Coventry. If you wish to have an exhibitors vat at the Show, you can book and pay for one online by CLICKING HERE. I will be doing a more elaborate news update on this when I'm back in the Country next week.
As I type, I am Holland, where I have been judging the European Shinkoukai Koi Show. As part of a team of seven judges, I was embarrassingly elected as head judge, a great honour. It has been a crazy day today, as there was a lot of Koi to judge, and seemingly little time. But, we managed to get it all done by my estimated time of 5.00pm, with two minutes to spare.
Tuesday, 16 April 2013 21:32
Well, I'm back in the UK now, and the Koi are due in imminently. Gary has done a superb job of looking after everything in my absence.
Monday, 15 October 2012 01:01
Well, it's 2am, and I am nearly ready to go to bed, prior to flying to Japan in a few hours time. The trip is set to be a long one, through until November 18th due to dealer and hobbyist groups. I hope to impress, but right now am keen to get to bed. If you are subscribed to our newsletters, you will have probably just received one, packed with all sorts of news...
Best regards,
Mike.
In Japan, and Tategoi Challenge
Tuesday, 27 March 2012 03:29
I have just arrived in Japan, and will be now hunting for some wonderful Tosai. Keep your eyes on the blog pages, or our Facebook (Yume Koi) pages for the latest updates. It's also that time of year for closing and judging our 2011/2012 Tategoi Challenge, so please send us up to date photos and sizes of any purchases made last Spring so that we can judge this years winners. Many thanks, Mike
Sunday, 05 February 2012 22:59
I'm currently in Japan, and return on February 10th. Aside from visiting the All Japan Koi Show, I am in search of a handful of very special Nisai. So far, the trip has been very fruitful, having purchased three incredibly special Koi from the All Japan Koi Show 'Dream Koi' exhibition. Please check our 'Fish' pages for more info, or our Yume Koi Facebook page HERE
Tategoi Challenge, and new Yume Koi pond
Thursday, 29 September 2011 00:00
It's been several months since the last new update, and there have been many many changes here at Yume Koi! More on that later though...
Last year's Tategoi Challenge winners are finally decided. This year was a tough one, with three very close contenders for the 'Unlimited Class' and two very close runners for the '£700 Class'. The emphasis on the Koi has nothing to do with how the Koi will fare in the Koi Show, but how good a candidate they are for growing up to be good Koi in the future.
Read more...
Japan Spring 2011 & Tategoi Challenge
Saturday, 09 April 2011 02:04
As I write this, I am in Japan. My trip started with leaving the UK on 23rd to Judge the Indonesia Koi Show. After that, I flew to Japan via Singapore.So far, the trip has been a great success!
For those of you that bought Tosai last year, please remember that all are eligible to compete in our Tategoi Challenge. Competition is stiff however, with many of last years koi now becoming fantastic Nisai, some of them now some 68cm! (that's not a typing error). Also, all of the Tosai we are now selling can compete in our next Tategoi Challenge, which is split into two classes of 'Up to £700' and 'Unlimited'. The prizes for the winners of the two classes are a free koi of your choice of up to the original purchase price (£700 max) and for the 'Unlimited' class, a koi of up to original purchase price (or £2000 max). Please send in photos of koi you purchased last year in order that they can be judged.
Many thanks, Mike.
International Koi Congres 11th - 13th March
Monday, 28 February 2011 21:37
Thirsty for Koi knowledge? On the 11th to 13th of March, there will be a huge three day event in Holland packed with lecture after lecture about all things 'Koi'. I will be lecturing on the 12th and 13th of March, but these two lectures represent just a fraction of the knowledge that you could gain from this immense event. If this is of further interest to you, check out the official website for 'International Koi Congres'
See you there!...
Mike.
Used Bakki Showers for Sale, and other stuff...
Tuesday, 08 February 2011 16:14
One of the very first people to run Bakki Showers in the UK has moved to Morocco, so is selling all three of his Bakki Showers. They are the 2nd generation systems, and complete with more Bacteria House than needed. If of interest, call Craig directly on 07901 350086. The price on these systems, is £500 each complete with genuine BHM media, so an absolute bargain. He has never had any viral or bacterial problems, so you can buy these with confidence of their safety. Craig's systems can be seen on our Bakki Shower Appraisals pages HERE. Sorry, all three systems now SOLD.

Also, following our conversion to drum filtration last year at Yume Koi, we have two double width Estroseives for sale in excellent condition. Please call us if of interest.
Momotaro Auction, 17th November
Thursday, 11 November 2010 01:29
If you have any interest in the Koi in the upcoming Momotaro auction, please let me know, as I will be attending in person. As you are no doubt aware, I have very in depth understand of Momotaro's bloodlines, with over 10 years experience with selling Momotaro Koi. I have already seen the Koi in question, and have a very good idea of how good these Koi are. Please see Momotaro's website HERE and get in contact with me either by email, or on my Japanese mobile +81 804 266 6949. Please note, that the Koi look nothing like the photos, so it is hard to gauge how good they are. But, amongst these Koi, are some very very special Koi!
Thank you,
Mike.
<<

Start

<

Prev

1

2 3 Next > End >>


Page 1 of 3