A Brace of Grand Champions...
Tuesday, 01 June 2010 09:18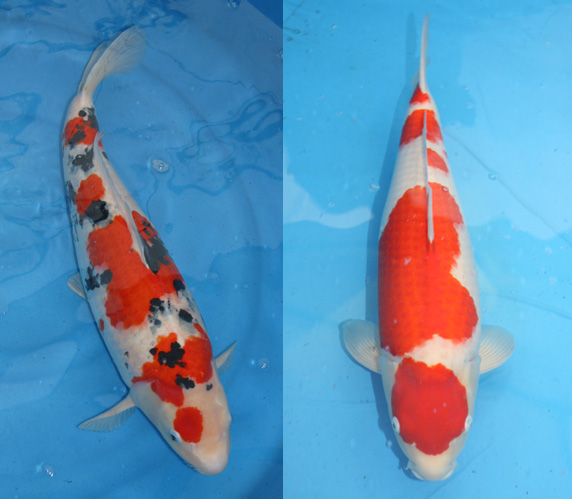 On the weekend of 23rd of May, Stuart Toms discovered that he had won Grand Champion in the PKDA Virtual Koi Show with the Matsue Kohaku pictured above. Then, yesterday (31st of June), Stuart also won Grand Champion at the South Hants Open Show with a Yamatoya Sanke, also from us. Read on for more info...
The Matsue Kohaku is one we bought as Nisai, and sold to Stuart early last year as Sansai of 70cm. Stuart then grew her in his own pond to become Yonsai of 78cm. I am hopeful of this wonderful Kohaku appearing at the BKKS National in the future...
The Yamatoya Sanke is the first one we bought from Yamatoya, as Sansai of 56cm in 2002. Stuart bought her in Spring 2003, and took her home to his first pond, of about 3000 gallons. She didn't grow in this pond, and then went to live in Dave Cousin's Streamflow pond for about a year, whilst Stuart built his 10,000 gallon pond in which the Koi now resides. In this new pond, she has grown steadily, but slowly to around 76/77cm, at some 11 years old! Whilst it is unlikely that she will get Jumbo, she should hopefully squeeze past 80cm before she starts to show her age.
Stuart also won Mature Champion in the PKDA Show, with a Sanke which we grew from 15cm to Jumbo Tosai of around 30~35cm as one of 290 Koi, before Stuart took her home and grew her to 78cm, as Yonsai.
Congratulations Stuart!