Yume Koi Tategoi Challenge 2008/2009
Thursday, 13 August 2009 00:00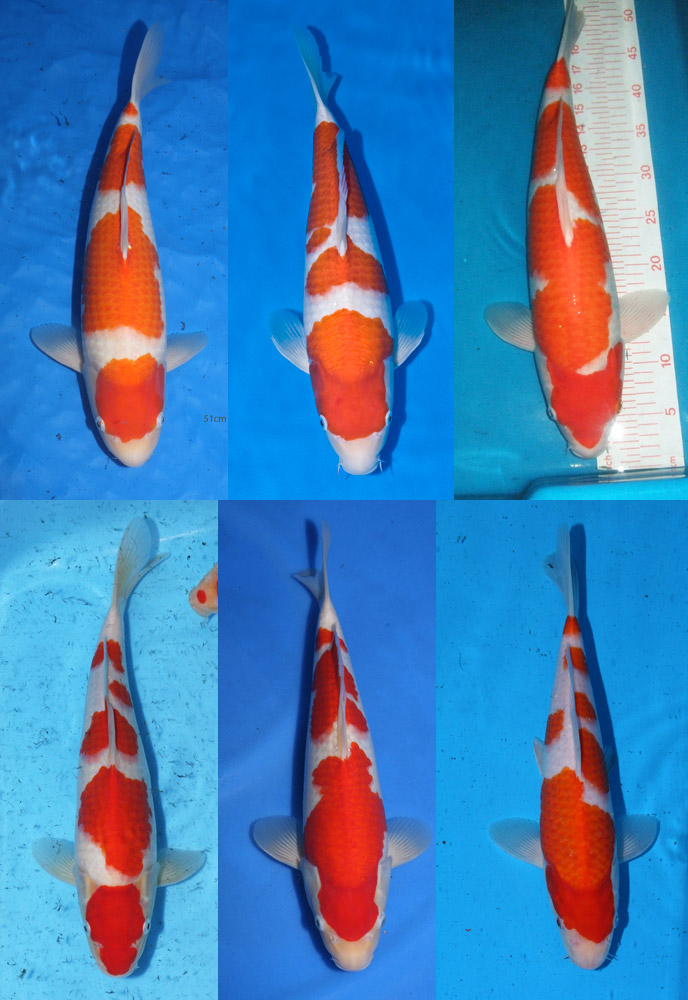 It's about time we released the outcome of our '2008 Tategoi Challenge'
Pictured above are the winning Koi, and the prizes taken. On the top row, the middle pic is the overall winner owned by John H, bred by Takigawa Koi Farm. To the left of this, was the second winner, owned by Tom C, bred by Matsue. On the right, is the 'Sub 700' winner, owner by Chris P, and bred by Yamatoya.
The second row of pics, is of the prize Koi that were chosen by the owners of each of the winning Koi above them. So, the prize Koi chosen by Tom C, was a 35cm Takeda Kohaku. This Koi was the absolute best that I could find (irrespective of price) from all of Takeda Koi Farm's best Tategoi. The Koi chosen by John H, was a 38cm Okawa Kohaku, of which both he, and us, have high hopes. Chris P chose another Yamatoya Kohaku as his prize.
Our Tategoi Challenge Gallery is still not complete, but if you wish to see the outcome, then subscribe to Koi Nations Magazine, and get the issue containing all of the results. The gallery will be updated over the next week or so.
In the Spirit of the 2008 Tategoi Challenge, we will be holding a 2009 Tategoi Challenge! If you have already bought a Tosai from us this Spring, don't worry, it already qualifies! But, this year there will be only two prizes... 1) Unlimited, and 2) Sub £700. The prize offered up next Spring is any one of our Tosai up to the price of the original purchase, and a maximum of £2000. Unfortunately, we have had a massive run on Tosai this Spring, so have very few Koi left for sale. The closing date for 2009 purchases/entries is 31st July. We hope that our Tategoi Challenge of last year, and this, will demonstrate both now (and over coming years as the Koi grow) how important the subtle difference of 'Yume' Koi makes when the Koi are grown up. In the future, we hope that you will realise that our 'expensive' Koi are in fact extremely good value for money.
Here at Yume Koi, we have been undergoing many changes. Some are very subtle, and some are relatively major. These changes are in order that our ponds run through this coming Summer with the optimum of performance, resulting in the best Koi we have raised to date. We are confident that these changes will make a huge difference to the reults this coming Autumn. Of course, time will tell.
Should you be interested in any Koi, please make the effort to come and visit, even if you have no intention of buying from us. We promise to make you feel welcome, and without any expectation of a purchase! We are confident that you will be impressed, and we have over 150 Koi here, many of which are not on our website. Such a collection of Koi cannot be found anywhere else in the UK.
Many thanks, and best regards,
Mike