Spring 2013
Thursday, 11 April 2013 22:55
The last few days have been absolutely manic, with so much driving that I haven't back at hotels until bed time. Sadly, in my efforts to keep this trip as short as possible, there were three breeders that I simply didn't have enough time to get to.

But, the good news, I did get wonderful Showa from Ueno, Kohakus from Okawa, as well as visiting the Momotaro, and Sakai auctions. The fruits of these past few days are all uploaded onto the site, but have been selling ridiculously fast, most likely because of the very keen pricing :-)

What's not on the site?... I have some female Jumbo Tosai Mukashi Ogons of 30 to 36cm, selected from all of those that were destined for the mud pond! I also have managed to get a handful of female Jumbo Tosai Karashis from Takigawa Koi Farm.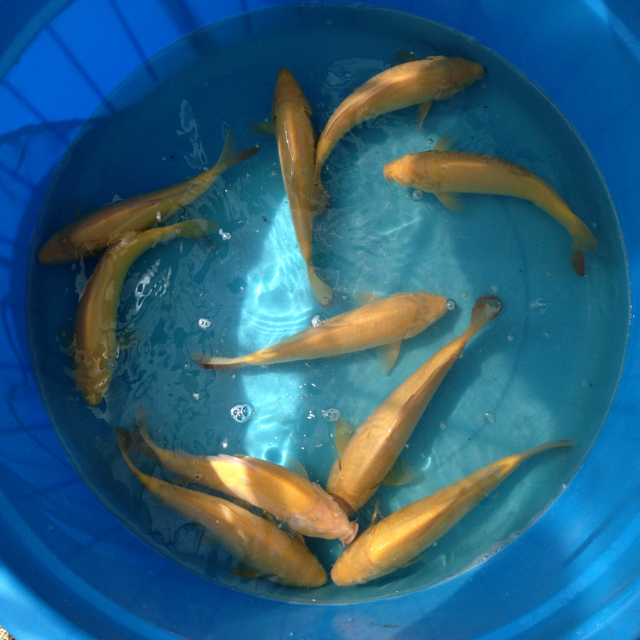 Takigawa - Another Great Day
Sunday, 07 April 2013 23:20
Yesterday was a long, arduous day! I went through Takigawa-san's Tategoi ponds, selecting the ones I wanted, and was very happy with the outcome! Sadly, on one pond, he forgot to turn the feeder off the day before, as just before we were putting the net in to drag the pond, it went off! This was a real shame, as the parent lineages of those Kohaku were very interesting. For those of you that are wondering... Any breeder that is growing Tosai, will never pick them up on the same day that they have eaten, as it is very dangerous for the Koi's health. But, c'est la vie. I still got some wonderful Goshiki, excellent Kohaku of Sakai 'Benibana' line, and Tanchos from the same parent set. All in all, a very good day. I was hoping to get some more fish, but sadly ran very much out of time because of sourcing/photographing fish for other dealers.
Next job, was to sort out all of the fish and prices with Takigawa-san, along with clarifying lineages. That led us up to 7.00pm, before going out for dinner. I then drove about 2 hours to Okayama, arriving at the hotel at around 10.30pm last night. All of this, of course, renders a lot of work incomplete each and every day. It's very hard to keep on top of this, and emails, etc...
In the pics below, I was going to help Takigawa-san net the first pond of Tosai (Goshiki), but his Father of some 88 years of age insisted on doing it!!!
The second photo is of one of the ponds of Kohaku that I selected through.
Today I am at Momotaro, as they are checking their best Tosai Sanke for male/female. I hope to obtain a handful of these Koi. After that, its a 5 hour drive to Kyushu, to visit Ueno. The following morning will be Okawa, and then back up to Hiroshima in the afternoon!
The reality of things this trip, is that I have tried hard to keep the duration as short as possible, and it seems evident that it will be about two days shorter than I really need...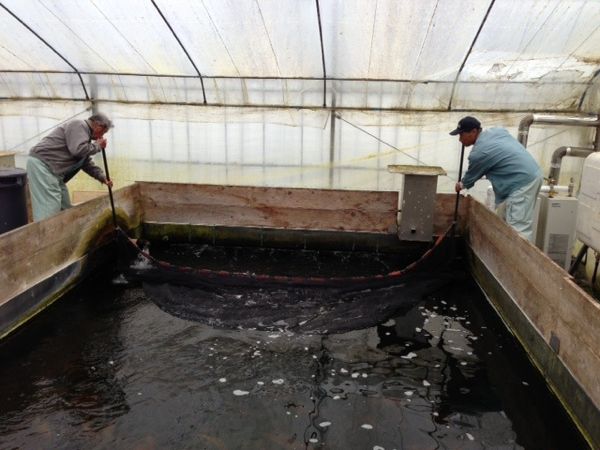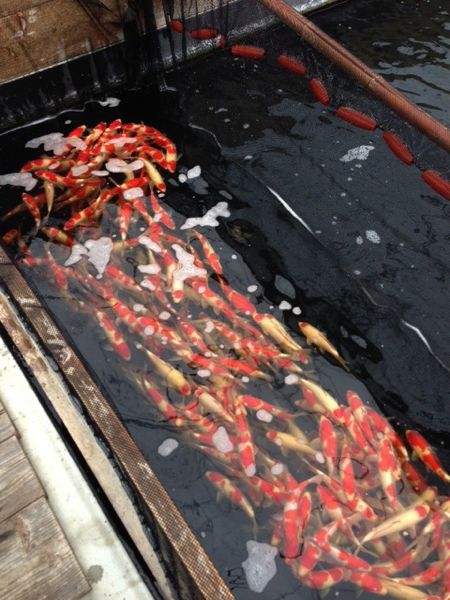 Saturday, 06 April 2013 23:25
Well, yesterday worked out extremely good. I went through a number of Matsue's Tategoi ponds, and managed to find 10 very nice Koi, which I have now put on onto the website.

This morning, I will leave the hotel in Matsue, and head off to Takigawa Koi Farm. I have strong hopes for today being another good day...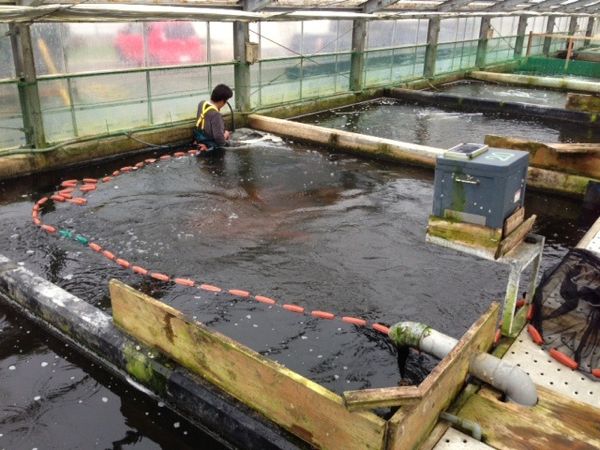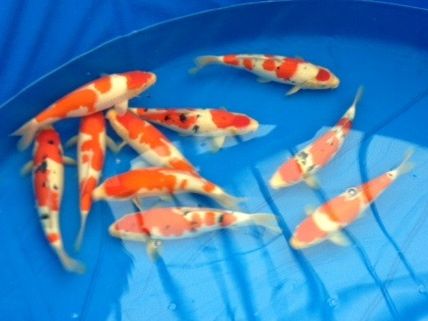 Friday, 05 April 2013 23:07
Well, after 10 days of chaos, driving and selecting Koi every day, John has left this morning, and now the even harder work begins! I'm off to Matsue this morning, in search of the highest level Tosai. I'm both excited, and nervous, as I never know what to expect until I have gone through the various growing ponds. But, I am very hopeful!...

From today, the blog should have something have good reason to be blogged. Fingers crossed...
Wednesday, 03 April 2013 05:41
Having left Omosako this morning, I am now at Okawa Koi Farm. John is looking for various fish for his customers.


Sunday, 31 March 2013 02:01
Well, I'm now at the Hiroshima Wakagoi Show. Judging is well under way, and this is a one day event. It shouldn't be too long until the results are known...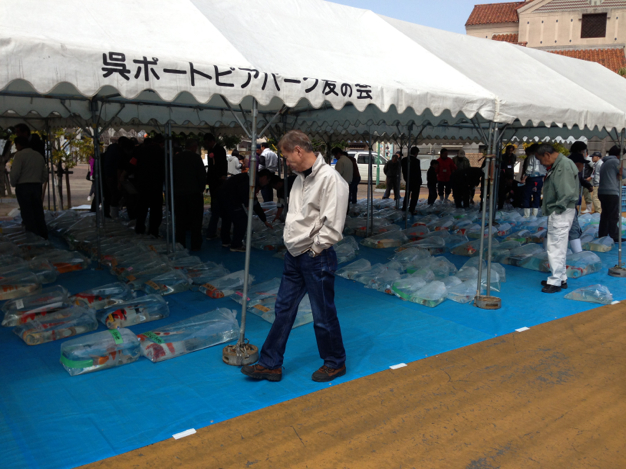 Here is the Grand Champion...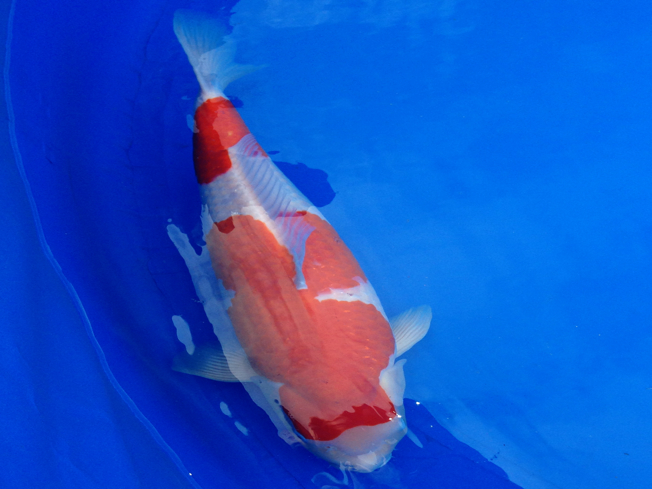 Saturday, 30 March 2013 02:10
Well, it's been a hectic few days. I flew out on Monday, but had to fly via Taipei, so arrived late on Tuesday night. For me, the trip has only just begun, and I have only bought a handful of fish so far. I have another dealer with me from Monday, but will be doing the core of my buying from the 6th onwards.

Right now, I'm at Omosako, and hope to obtain a few good fish today. We'll soon see if luck is on my side...