October 2010
Thursday, 18 November 2010 08:12
Today is my last day in Japan, having spent just over a month here, and driving just under 8000kms around Japan. I fly home tomorrow.
I have spent today catching up with emails, and photographing Koi that we have left in Japan this Summer.
As for the Kohakus pictured below... we bought all three as Tosai, and they are now Sansai of 75cm, 70cm, and 75cm respectively. The bloodline of these Kohaku can be a little tricky to read as Tosai, as the subtle differences between different qualities and body structures make an immense difference when the Koi grow up. These three have so far done superbly, and I am very proud of the success rate here.
The Sanke pictured, has a bit of story behind it, as Momotaro raised her from Tosai as a male, and tried using her for breeding when Nisai. Then, as Sansai, they found she was actually female. She had been raised up to Sansai in the male parent fish house, in a pond of 20 tons. She now measures 70cm as Yonsai.
14th, Matsue and Momotaro
Sunday, 14 November 2010 10:25
We spent last night in Matsue, and went out for a very pleasant meal with Iitsuka-san. We then went to the farm this morning to look at Nisai, Sansai and Yonsai looking for 'money no object' kind of Koi. After searching through everything available, the party with me concluded that the five fish in THIS VIDEO (that we have already bought) were in fact the very best of what Matsue had to offer. I particularly enjoyed seeing these Koi again, as now that they have settled, their skin and colour condition is already much better than when I first bought the Koi when harvested. The video gives you a much better insight into the body types and qualities that these Koi posses, than the Kois original videos in our 'Fish' sales pages.
This afternoon, we went to Momotaro to peruse the Koi that are to be auctioned on the 17th.
Tomorrow and Tuesday will be a tad more relaxed than the last week, as we now have four breeders to visit in the next two days, all within relatively close proximity to each other. Phew!...
Saturday, 13 November 2010 10:40
Sorry for the lack of updates. I left Niigata on the 6th, and have been just about everywhere imaginable since! Today, we have been to Okawa, Yamatoya, and are now in Matsue. The schedule with the current party is an immensely crammed one, so I am driving more than every in the last few days! So far (since arriving in Japan on 15th of October) I have driven over 7000kms, and am likely to add another 1000 to this in the next few days.
I am massively over budget, as always. But, the Koi are starting to sell now, so looking good :-)
Tomorrow morning, we are at Matsue Koi Farm...
Saturday, 06 November 2010 07:39
Well, today was a surprising day for me... We went to Dainichi and Yamamatsu. Though going to Niigata for the benefit of Leo and John, unexpectedly found myself drawn to a very special Showa, that I just couldn't walk away from! She is nisai, just under 55cm, and has absolutely everything that I look for in a Showa to grow Jumbo, and high-class! I will put pictures up later, but you can see VIDEO HERE.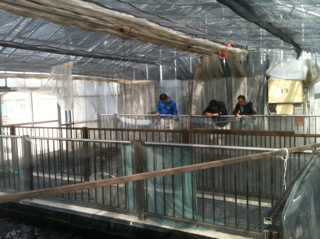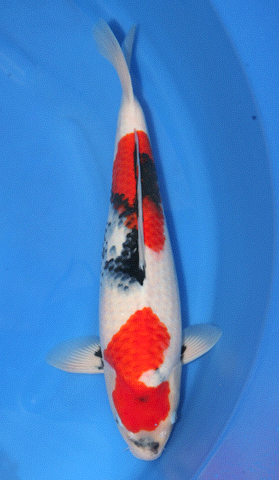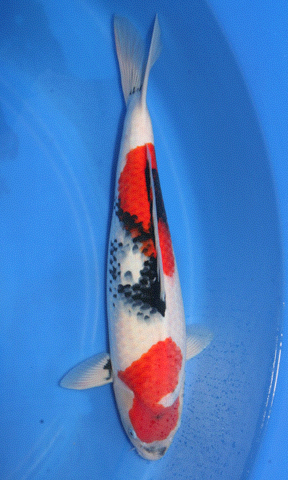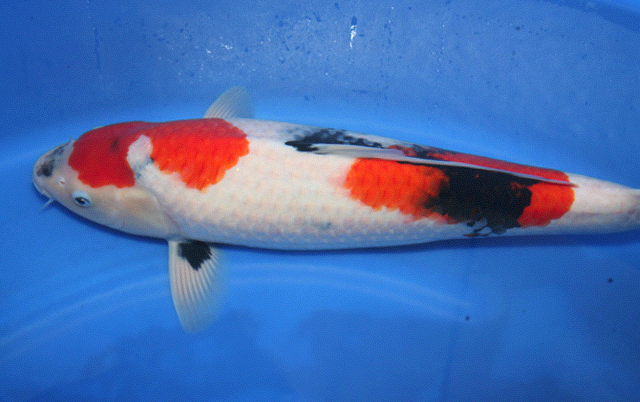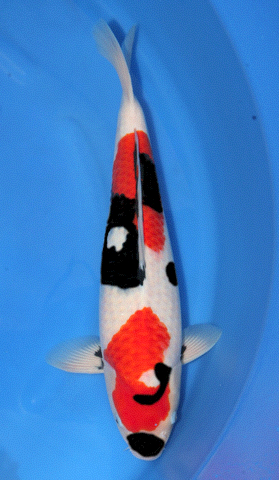 The above photo is my idea of what she will look like within the next two years :-)

Leo and John are now in Niigata awaiting their journey home. I am now heading South again on the Shinkansen train as I write this, with my next party...


4th November, Matsue & Sakai
Thursday, 04 November 2010 12:25
Last night was one of the most interesting nights I have had to date. We went out for dinner with Iitsuka-san (Matsue), and I got talking to him about his bloodlines and traits. It transpired that one of the parent Koi produced Koi with exceptional bodies, that grew consistently big because of the consistent body types. But, the Koi's genes were somewhat 'wild', so the colour quality of the offspring was very difficult to 'read' when selecting Koi, because the very slight difference in Beni type/appearance would make an immense difference as the Koi grew up, whereas with the other parent Koi, the body type was more varied, yet the colour type more predictable. In times when people strangely think that all offspring grow to the same eventual size, and that colour types/bloodlines within a certain breeding are unimportant, this kinda solidifies my own beliefs in the importance of good understanding if you are to have any hope of a Koi growing up to be the perfect combination of 'big & beautiful'.
Today was very exciting for me! We went back today as yesterday the last pond of nisai was harvested, but we ran out of daylight. I found two very special kohakus, one from 'Manten' and one from 'Himawari'. Both have all the right credentials that I look for in high class koi for growing to Jumbo. The body line and bone structure of these koi is absolutely superb, and the colour types for theis respective bloodlines ensure the best possible future lies ahead...
This afternoon, we went to Sakai. Leo and John bought four Nisai Kohakus, and then traveled back to Okayama this eve. In the morning, we head up to Niigata for the next two days, after which, Leo and John depart, and I head back South once again with the next party, to do it all once again! ;-)
2nd & 3rd, Okawa, and Yamatoya...
Wednesday, 03 November 2010 10:55
Yesterday was an interesting one. I am left contemplating a Kohaku that they grown on the farm during the Summer, and a pair of Showa that came up from the mudpond a few days ago.
Today was somewhat frustrating... we went to Yamatoya Koi Farm. The Nisai this year aren't really so good, though there Shiraishi-san has produced a few good ones. I like his Kashira this year, which I have reserved from when I watched the mud pond harvest. That said, he has another that is probably better that he is keeping as a so say 'customers Koi' ;-) It's not to my liking though, so no problem. But, as for the one I have reserved, she is indeed beautiful, but the problem I have, is that she is exactly the same price as last years Kashira (that we bought, and have at Yume Koi, though we have already sold her), but last years Kashira is to my mind a very rare creature, and the very best Kohaku that Shiraishi-san has ever produced. This makes this years one a tough decision. Hey ho...
1st & 2nd of November, Ueno and Okawa
Monday, 01 November 2010 22:44
Well, yesterday was a somewhat torturous drive from Mihara to Kyushu. I was really struggling to stay awake at the wheel, so had to stop off twice en route. We arrived at Ueno Koi Farm at 4pm, and perused all of the Nisai for an hour or so. There are some good Koi there this year, but the prices are I think higher than people in the UK will pay. Showa is an incredibly difficult variety, and people always ask me why I don't buy more Showa. The simple truth, is that I love Showa, but really struggle to find good ones. Of course, there are pretty ones that won't grow, and there are ugly ones of low quality that perhaps will grow. But to find a Showa that has the right body type to grow big is very difficult. To find one that will carry a good shape & get big is harder. To find one that will grow big with a good shape, AND be of high quality when big is almost impossible. This is why, to date, I have only bought three Showa from Ueno. Don't get me wrong, Ueno Showa are fantastic, but I always struggle to get good Showa anywhere in Japan. If you do find one that 'ticks all the boxes', then the chances are that something else is wrong, like the pectoral fins sweep back too much, etc...
People sometimes compare our Koi to what they can find elsewhere. But, sadly, they often miss the point. A newcomer to the hobby visited us recently with a group of friends. Strangely, he made an observation of the body types of our Koi, and quizzed me on it. What he noticed, was the strength and thickness of the backbone, and that he said he had never seen that 'look' with Koi he had seen offered for sale anywhere else. It seems something trivial, but to me, it is something very important if you intend grow the Koi big. The back line and thickness is very important, and the belly line is also very important, as a combination of these points dictate the likelyhood of the Koi to grow big, and what kind of shape it will carry when big. To find this in Showa is a lot harder, but I think if you watch THIS VIDEO of the 70cm Yonsai Showa pictured below, and THIS ONE of the same fish as Nisai, I hope you will appreciate why I am so picky about the Koi I buy. I would never buy something that I wouldn't be happy to keep and grow myself. You can peruse the rest of our videos HERE
Sunday, 31 October 2010 10:10
Sorry for the lack of updates over the last couple of days, but it has been hectic to say the very least!
On the 28th, I drove to Okayama, and we met up with Leo and John (Deshima Koi), whom I am taking around all areas of Japan until the 6th when the next party arrives.
Anyway, on the 29th, the four of us went to Momotaro, as Leo and John were in search of Koi. Then, that evening was the last evening for Darren, as he was returning to the UK the following morning. After that, I drove John and Leo to the next hotel, as we had an early appointment the following morning...
So, after taking Leo and John to a new breeder early on the 30th, we then headed off to Takigawa Koi Farm. They managed to get a few good Koi there, and were absolutely blown away by Takigawa's really special Koi, including a Showa that I sold as Nisai that has been left there through to Sansai. You can see a movie of her HERE. She was his 'Kashira' as Nisai, and is absolutely perfect in every way! She has a perfect body and head, beautiful skin, amazing colour quality, with perfect Sashi and Kiwa, and fantastic Sumi, that again has very good Sumi Kiwa, and no Jami (loose shimi Sumi)... fantastic!
Then, today (31st), we went to Omosako Koi Farm so that Leo and John could buy some Nisai for their customers.
Tomorrow morning, we hit the road again...
28th, Yamatoya Nisai Harvest
Thursday, 28 October 2010 03:17
Posted LIVE from one of Yamatoya Koi Farm's nisai harvest today. 50 koi are being harvested..
Wednesday, 27 October 2010 11:23
This morning, i did have an agenda, but alas, the breeder in mind was out harvesting. So, we decided to pop back to Matsue for an hour or two to get video footage of yesterdays harvested koi. Whilst there however, I found three new koi, and photographed one customers koi that I bought as tosai, and sold when Nisai. She is now 70cm Yonsai, and incredibly beautiful. So, the first three pics are of the new koi, and the last koi is the customers Yonsai...

We are now at Yamatoya, and are attending a nisai harvest in the morning. Sorry, I haven't yet had enough Internet time to upload many of the koi to the sales pages. I hope to do this tomorrow evening...
<<

Start

<

Prev

1

2 3 Next > End >>


Page 1 of 3