October 2009
Wednesday, 28 October 2009 19:01
Well, today (28th) was kinda double-edged. On one hand, a few of our Koi came out wonderful, but the downside being that one that had done particularly well, and emerged as Yonsai of 71cm, came out of the mud pond fine, but an hour or so later, died.
This is kinda 'C'est la vie' with Koi, as it is most likely that the Koi suffered some kind of burst blood vessel when harvested, and this was an expensive one! On the upside though, a few others were very good, and I got the chance to photograph last year's nisai Kashira (now Sansai Kashira), and she is indeed incredibly beautiful!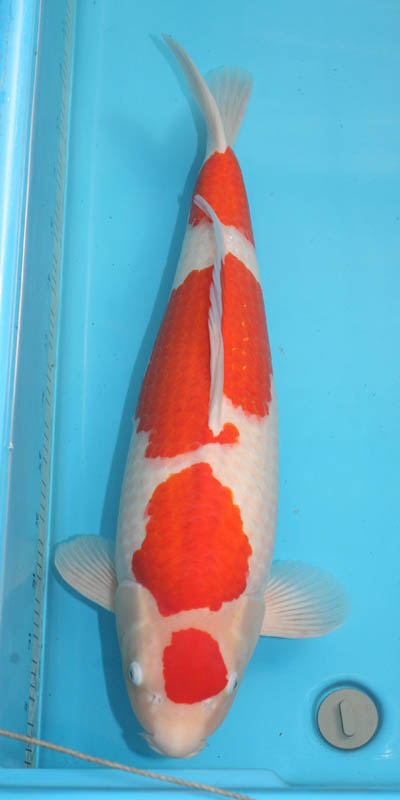 The Kashira from the year before (that went to the Wakagoi Show this year) came out at 71cm, and in wonderful condition!
Tuesday, 27 October 2009 18:52
The 26th was a day I was very much looking forward to, as today was the day that Yamatoya was to harvest their Sansai, which included a Koi very special to me... the nisai 'Kashira' from last year (amongst others). Here she was being brought up from the mudpond.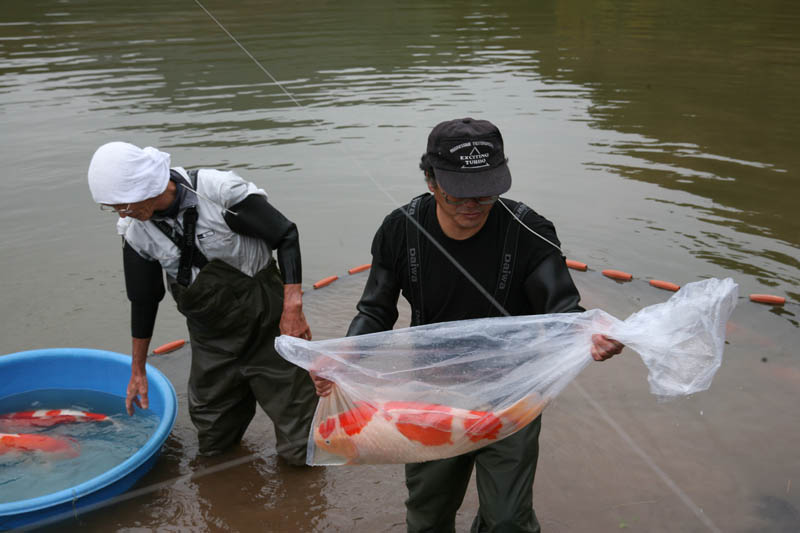 The picture below shows her in a bowl prior to being put in the pond Yamatoya's fish house.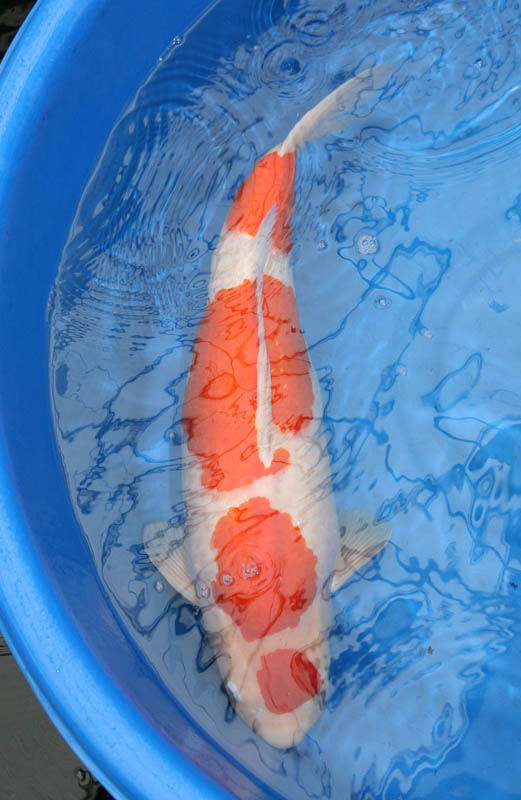 Having just been brought up from the mud pond, she is a little 'wild', but measures just over 64cm as Sansai! I will take better photos when she has settled down in a few days time. The 27th, we went to see Matsue again, as I was in search of special Sansai and Yonsai.
There were two notable ones, so I will be taking clients back to see them next week after I return from Niigata. Tomorrow morning, we will be travelling back to Yamatoya Koi Farm to see the Jumbo harvest. At this time, I am hoping to photograph many of our Koi...
Saturday, 24 October 2009 18:48
On the morning of the 24th, we set off from Kure city, to go to Kyushu to visit Ueno and Okawa. I thought this would be a nice leisurely drive for me, but when we got half way across Hiroshima City, it transpired that part of the Hiroshima Expressway had been closed because of an accident, so the journey took a long 5 hours in the end.
Ueno didn't really have much to sell that I considered worthwhile at this point. That said, we have a stunning customers Koi residing there, that now measures 62cm as Sansai, and is up for sale again, along with all of the Koi that he has with us... so if you fancy a bargain... contact us!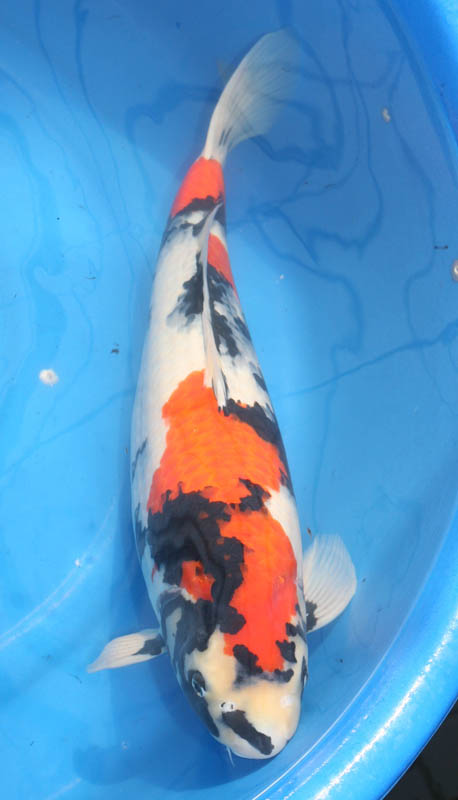 After the brief 1 hour stop at Ueno, it was off to Okawa, where we stayed that eve, and headed to the farm on the following morning. This Kohaku is one that I bought in Autumn last year when Nisai. She is now Sansai, and 65cm... very high quality, and will grow big easily!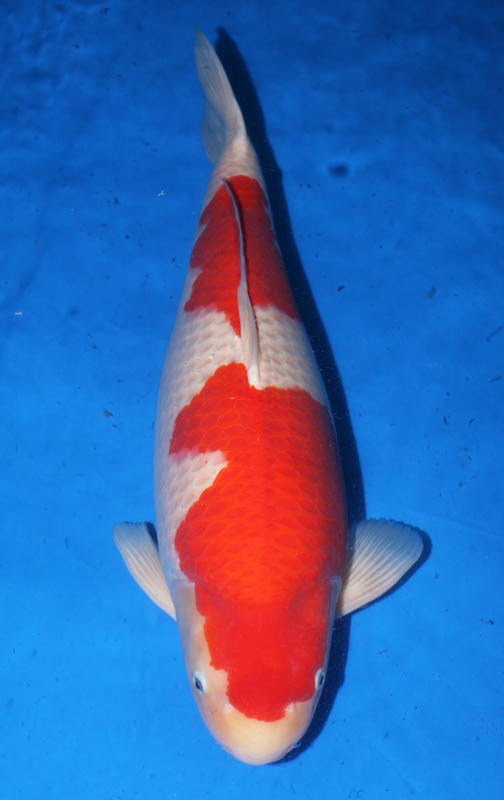 Thursday, 22 October 2009 18:37
On the afternoon of the 22nd, we left Yamatoya, bound for Kure City, as I had arranged for us to attend two nisai mud pond harvests at Omosako the following morning, containing a total of 150 Koi.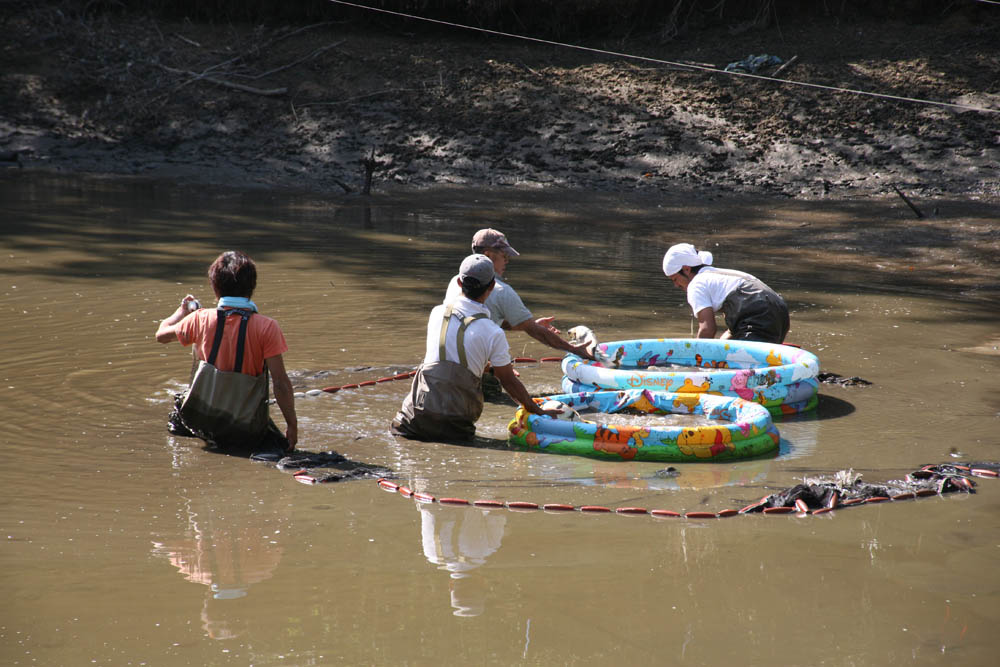 Omosako-san checking and transferring Koi to the transport tank.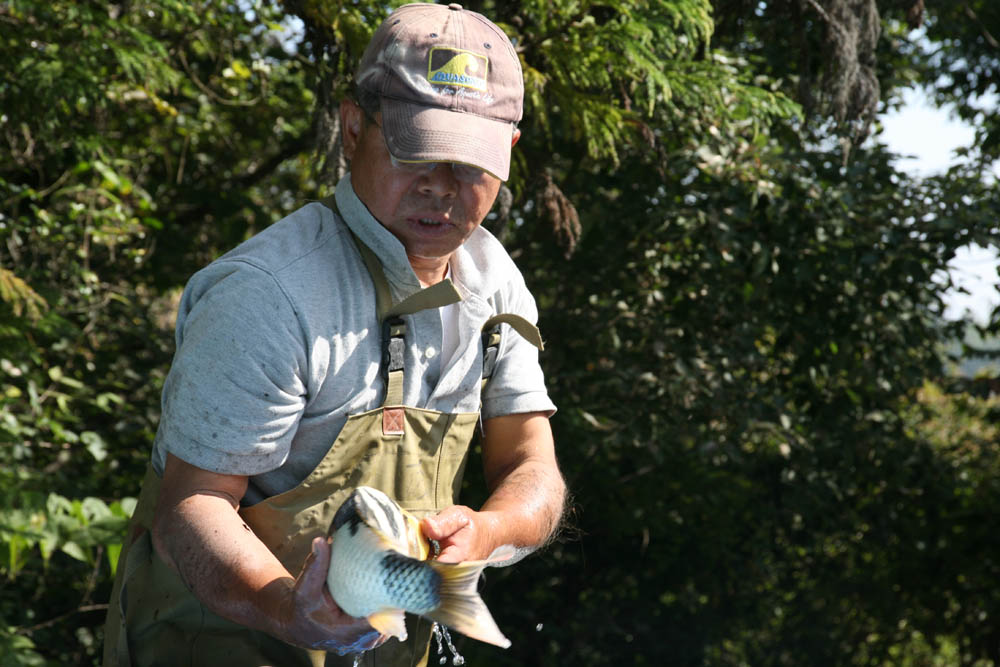 The number 1 Koi of today's harvests is on the left below whilst the little darling on the right, ok, huge darling of 55cm!... was the number 2 nisai of Panda's offspring. A simply exquisite Koi, that we have now already sold.
Wednesday, 21 October 2009 17:25
On the afternoon of the 21st, we left Matsue, and headed off to Yamatoya Koi Farm. Shiraishi-san had that morning harvested the mud ponds containing his best Nisai. He said that this one was the number 1, and most likely the Kashira. But, the following morning was to be the last harvest, and concluded that this was indeed the Kashira.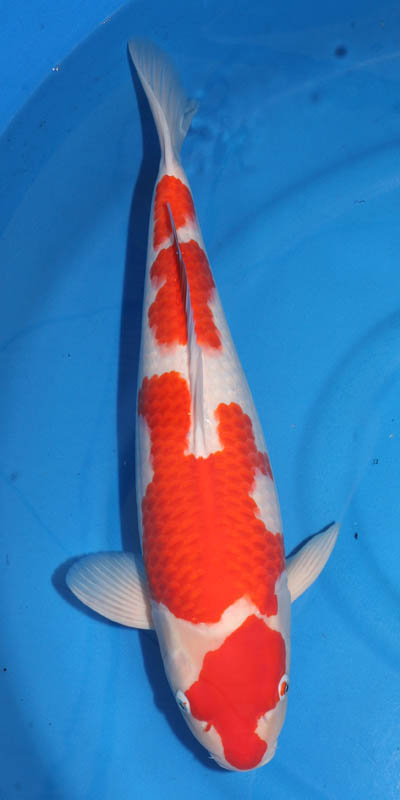 She measures 55cm, and is of incredible quality. She is a little slim, as during August and September, the mud pond's water supply dried up, so the Koi couldn't be fed properly. Nonetheless, this Koi will look amazing in a few years, when Jumbo.
Interestingly, I saw this Koi in the Spring when Tosai, and Shiraishi-san predicted then, that she would be the Kashira this Autumn. At that time, he asked me to buy anything I wanted, but to buy this one when Nisai.
Monday, 19 October 2009 17:21
On the 19th, I travelled over to Mihara, to pick up Darren, and then up to Takigawa Koi Farm. The following morning, we travelled up to Matsue Koi Farm. This, is Iitsuka-san taking pics of a Koi I bought and promptly sold.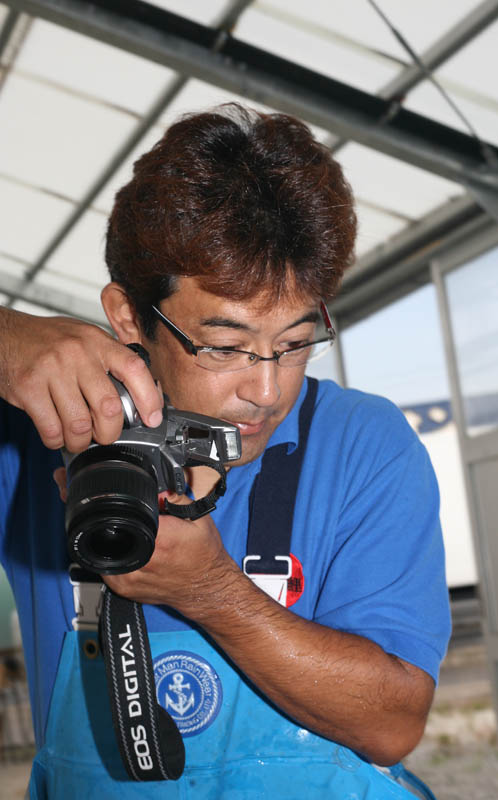 Well, this 58cm Nisai Kohaku, is to my mind, the next best to Matsue's 'Kashira' and was craftily hidden amongst their customers Koi! ;-)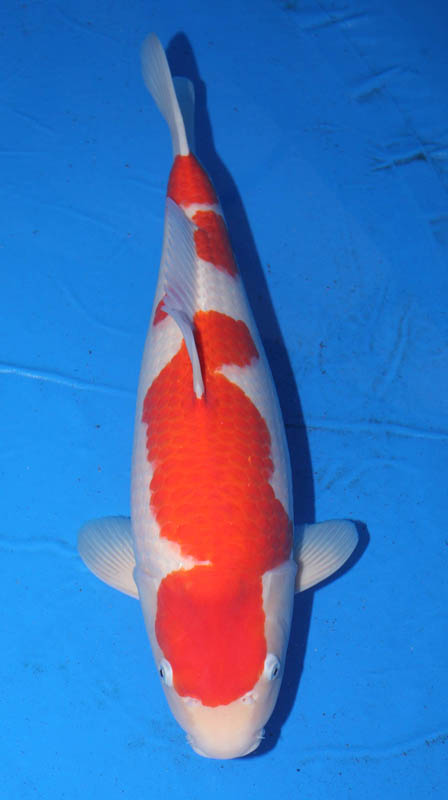 Sunday, 18 October 2009 17:08
I stayed at the Okawa family home on the night of the 16th, and on the afternoon of the 17th, I hit the road and headed off to Yamatoya Koi Farm to catch up with Shiraishi-san. He had no Koi harvested yet, so we just caught up on how things have been this Summer, and went out to dinner at my favourite restaurant, up in the mountains.
Whilst at Yamatoya Koi Farm, I checked out a few of his mud ponds in respect of TDS, and other things. As you can see, there's not much room for any mineral content within this TDS level ;-)
As many of you will no doubt be well aware, the 18th of October is my birthday, and I always celebrate it in Japan with the same special people... Hiro-san, and Yuuki-san.
Thursday, 15 October 2009 12:45
On the morning of the 15th, I hit the road and headed to Okawa. This journey took some 7 1/2 hours! It was worth it though! This Koi is one we bought and sold as Nisai. The second picture (on the right) is the same Koi, but now Yonsai (4 yr) and some 73cm long. Stunning!
I bought the koi below as Nisai from Okawa, but didn't manage to sell her until she was Sansai. On the right you can see the same Koi, but she is now Yonsai, and 76cm! She will now be coming home to her owners pond, who has wonderful keeping skills, so I hope that you will see her again in the near future!
Koi like this one don't happen every year, more like once every few years! This is Okawa's Kashira, and 52cm, bred from 'Honmei' which happens to be the same parent as the one that is now 76cm in the picture above. This Koi is absolutely breathtaking! She is now a 'Yume Koi'.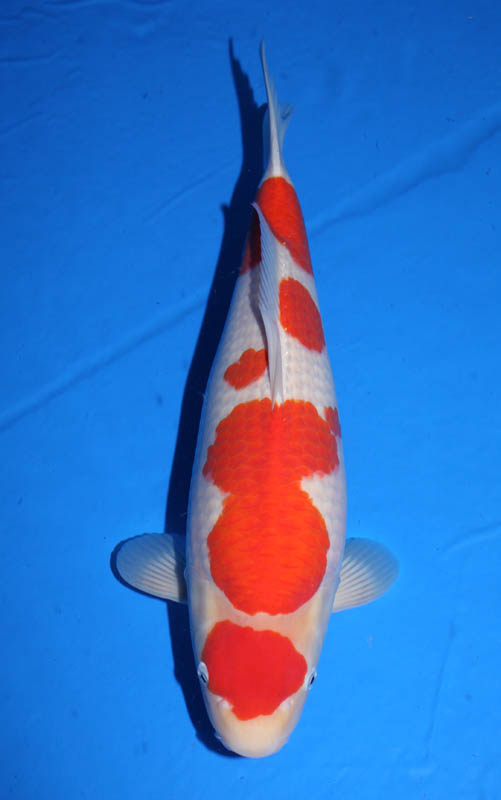 This is the number 2 Nisai at Okawa overall, and the best from 'Misaki' (same parent as 73cm Yonsai already pictured), and is also now a 'Yume Koi'. I have extremely high hopes for this Koi in the future!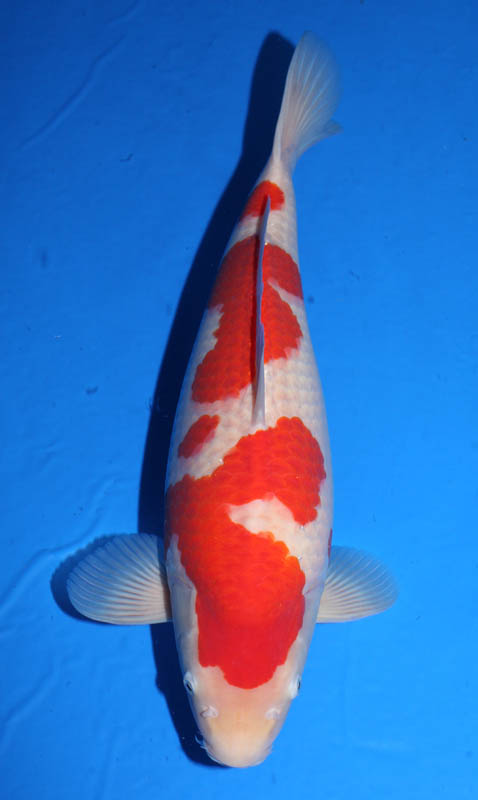 Meet Yuji & Yoneichi Tanaka, the two brothers that run Okawa Koi Farm. This is a very established farm, and home of 'Okawa Sensuke'. Nagoshi-san did his apprenticeship here many years ago, and it is a little known fact, that Okawa won Grand Champion at the first ever 'Wakagoi Show' (All Japan Young Koi Show).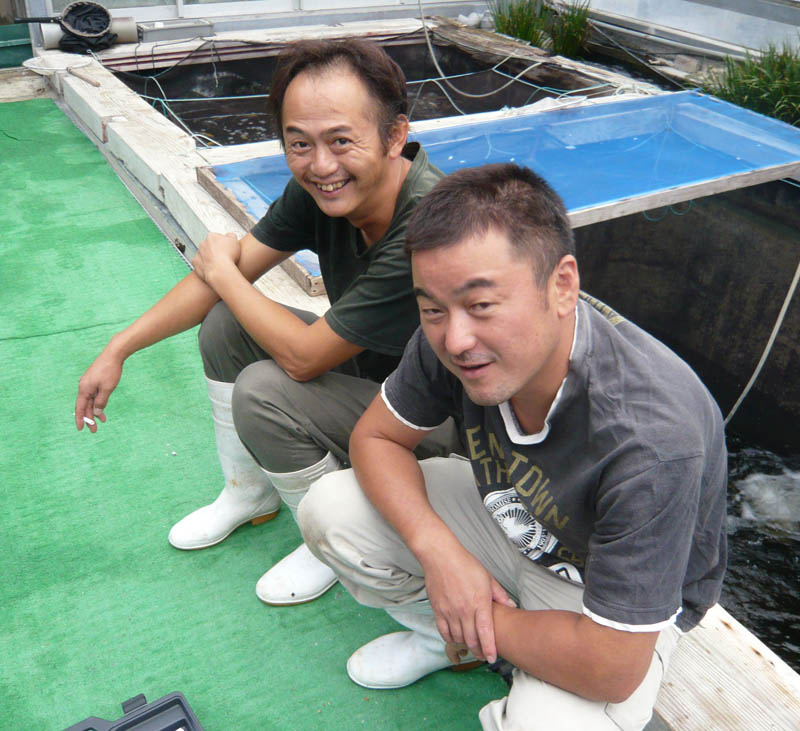 Wednesday, 14 October 2009 12:43
On the morning of the 14th, I headed up to Matsue Koi Farm. This is their Nisai 'Kashira', an outstanding 59cm Kohaku. Yes, I couldn't help myself, she is now a 'Yume Koi'.
Below are 2 pictures of a Koi I bought as Tosai in March 2008, in the hope that she sould turn out to be something very special. She was the only Koi I bought from Matsue at that time from their top level 'Tategoi' that weren't for sale.
The picture on the right is is the same Koi. In November 2008, I sold her when she became Nisai. She is now Sansai, and 65cm, and as you can see is becoming every bit as special as I had dreamed.
Tuesday, 13 October 2009 16:29
Well, having arrived in Japan on the 13th of October, I first headed South to Mihara, where I picked up my rental car, and headed straight off to see Takigawa-san. One thing I did here at Takigawa Koi Farm, was to check his 'Sakura Ike' mud pond water TDS.
For all of you who think you have managed to get your TDS low, I bet it isn't this low! ;-) That said, it isn't practical or feasible to run a filtered pond this low.