March 2011
19th April, On My Way Home...
Monday, 18 April 2011 23:55
Well, it's been a very speedy three weeks in Japan, having covered 5000kms in my hire car. Many Koi have sold whilst have been out here, and a few more have sold last night, so I have been unable to update the site this morning due to the panic of heading off to the airport.

Yet to be added to the site, are four very very high level Omosako Tosai Shiro Utsuris, and a handful of Okawa Kujakus, most of which have sold already.

I think that in reflection, this has been the most successful Tosai trip to date, having purchased more top level Tosai than ever before. I will be back home and available from the morning of the 20th if you have any enquiries...

many thanks, Mike.
18th April, Matsue... The Grand Finale???
Monday, 18 April 2011 07:08
Today I selected through two ponds of the best Tosai Tategoi. I bought everything I liked, bar none. Could it be that this was the Grand Finale? You'll find out when I get back to my hotel this evening...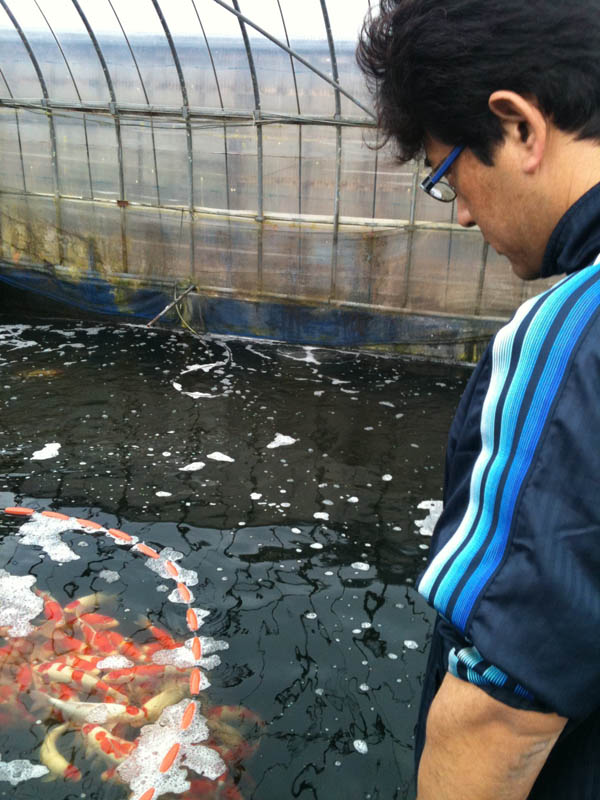 Sunday, 17 April 2011 14:06
Today was spent at Omosako. I purchased just a few very high level female Jumbo Tosai, and then we hit the road for Matsue again. I can't say anything more at this point, you'll have to wait and see what happens...
But, I have just added videos for some of the new Okawa and Ueno Koi. The latter are somewhat skinny, as I had the pick of the whole pond of Tategoi, that were yet to be selected for this coming Summers Tategoi, so they are heavily stocked right now, and not getting enough food. But, I think these Tosai are wonderful prospects, and certainly the best of their Tategoi.
One small point... A week or so ago, I added two Momotaro Jumbo Tosai Showa to the site, and mistakenly listed them as male, but they are in fact female, and from the new Momotaro Mako Showa bloodline. One of the very first breedings from this line, was at last years BKKS National as Sansai, and is looking superb now as Yonsai.
I'm having an early night now, as am very tired. More news tomorrow, I hope... :-)
Mike.
Saturday, 16 April 2011 04:45
Well, we have just left Okawa Koi Farm... Yuji-san and Yoneichi-san really came up trumps today... We harvested their best Tosai growing on pond, and I had a free reign to choose what I wanted 'senbetsu' style. I bought the best kohakus they had, and their best Sanke... Pics later!!!... ;-)

Now, we are heading to Ueno Koi Farm ...

update... There's good news and more good news...

firstly, Mark is driving now, so I can rest a bit.

Next, I harvested out a senbetsu on Ueno's Tosai Tategoi, and now have 7 female Jumbo Tosai to add to the website this evening! It's been a very fruitful day!!! :-)
Friday, 15 April 2011 09:59
Yesterday, we went to Omosako. We did some filing for Mark's forthcoming DVD there on selecting Tosai Shiro Utsuri, which I think went pretty well.
This morning, we went to Takeda Koi Farm, and for the first time, I drew a blank there. I even went back to Ya-san's Tosai growing house and looked through those ponds. All I could find was one Sanke of about 40cm that I liked... so, I apologised, and we left. Ya-san seemed happy though, so I think I will be welcomed back again. He said he would show me this Sanke this coming Autumn when she becomes Nisai.
We left Takeda Koi Farm at around 11.30am, and then took a 5 hour trek down to Okawa in Kyushu. I am absolutely exhausted now!!! I will be going out for dinner with Mark shortly, and then have an early night. Hopefully, I'll have a new lease of energy tomorrow morning...
Bye for now...
Mike.
13th... Oh yeah, THAT'S what I'm talking about!!!
Wednesday, 13 April 2011 13:09
At Matsue today. I've known about this koi for a little while now, as Matsue wanted to keep her until Sansai. I obtained the breeding certificate a couple of weeks ago. Today, I obtained the fish!!! :-)

I also got 4 really good female Jumbo Tosai.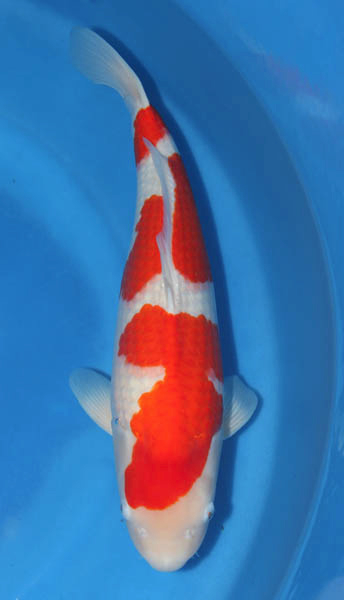 Sunday, 10 April 2011 09:41
Well, this afternoon we were back at Okawa. Not much else to say though right now, aside from the fact that the Okawa brothers have seen my new male Momotaro's Koi, and have been trying to get me to sell one of them to them! I can't do this foro two reasons... it defeats the reason for getting them in the first place, and secondly, if I sold Koi like these to another breeder, my chances of getting this kind of Koi again would never again happen. Yuji-san (Okawa's younger brother) said he is going to work on me about it after dinner tonight!
Saturday, 09 April 2011 01:40
Well, today kicks off with a very easy morning, as we have to be at Omosako for about 1pm. I hope that today will see me buy the first of our good Tosai at Omosako... We'll see. Today is unimportant for me right now though, as this week is really all about Leo and Jim. My time will come... ;-)
Update... Well, today, I bought three extremely good female Tosai from Omosako's 'Patra' parent. These are now on the 'Fish' pages.
7th April - Matsue Koi Farm
Thursday, 07 April 2011 05:26
Today we are at Matsue Koi Farm. Leo & Jim have found 7 good female Tosai, and a number of cheaper koi so far today. After we finish here, we will be heading off to Takigawa Koi Farm.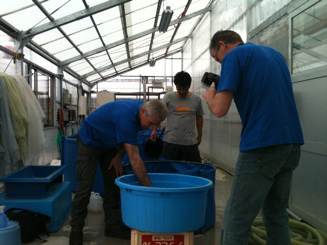 Thursday, 07 April 2011 02:29
Well, today was spent at Momotaro Koi Farm. Darren has flown home, and Leo & Jim have arrived. I managed to persuade Maeda-san to sell me two very special male Nisai of 61cm and 63cm. These I will keep to grow Jumbo back at Yume Koi. Although these aren't for sale, I can get hold of one or two more of this caliber.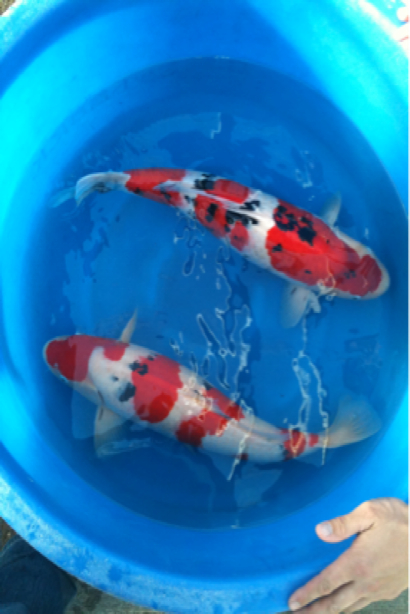 Monday, 04 April 2011 15:37
Not much to tell today... Went to Takigawa today primarily to photograph a 90cm kohaku we have there. This fantastic koi will be coming back to Yume koi soon, though I haven't firmly decided, as Takigawa-san has offered to grow her for free. But, my feeling is that she will be easier to sell if she is in the UK where she can be viewed. Who knows... Tomorrow, we will be at Momotaro Koi Farm. After that Darren flies home, and Leo & Jim arrive from Holland.
<<

Start

<

Prev

1

2 Next > End >>


Page 1 of 2