Autumn 2012
Sunday, 18 November 2012 01:19
After what has been a chaotic five weeks in Japan, I am finally on my way home.

This trip has been immensely successful, and for that, I am indebted to those with the faith to buy all the Koi I bought, and to the breeders for letting me have such Koi. As you can see, the blog kinda fell apart towards the end, but it just proved impossible to reply to all the emails, keep the site up to date, and the blog as well. There are still a few Koi yet to be put up on the site, but the early morning jetlag after my return should enable me to catch up properly.

Thank you once again...

Mike.
Thursday, 15 November 2012 00:49
Well, having done the usual rounds with the last group, I dropped them off yesterday at Hiroshima Station before heading off back to Matsue so that I could get photos and video of our customers fish that have resided there. I have also photographed all of the Ogons, and will be putting these on the website this evening.

This morning, I am going to try to find a few more Nisai at Matsue, as I have already sold almost every koi bought this trip.

This afternoon, I will be back at Takigawa Koi Farm, and hope to find a few more Koi there. I will have Internet this evening, so have a lot of work and emails to catch up on!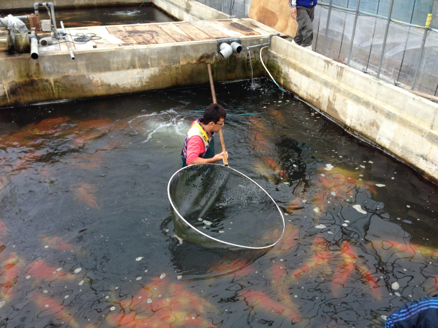 Sunday, 11 November 2012 22:39
Sorry for the lack of updates. Having hobbyists with me makes the day and evening very time consuming, although good fun.
I managed to get some really good Matsue Mukashi Ogons. These are Nisai, and around 58 to 61cm. These will grow incredibly big, and I chose the best from two hundred Nisai that were harvested.
I have also bought 10 Yamabuki Ogons, that are also very good. These are also Nisai females, and between 51 and 55cm.
Friday, 09 November 2012 14:00
Well, the past few days we have been just about everywhere, having driven more than 1200kms. The fruits of this though, are some really nice big Nisai Mukashi Ogons, and a few other fish. Today, I am in Okayama, and the group I have had this past week are departing for Tokyo tomorrow.

Tomorrow, the next group of hobbyists arrive, this time from overseas. It's going to be another tough few days ahead, but I am still in search of some more really good Go-Sanke...
Wednesday, 07 November 2012 10:28
I'm running behind with the blog, sorry!
Today, we visited Takeda Koi Farm. Around half the Nisai were harvested, and I managed to get three good Koi, pictured below. After Takeda, we headed back to Okayama, as Tom had to head back to Tokyo, and Nigel was flying back the following day.
Sunday, 04 November 2012 08:36
Last night will go down in my 'most memorable evenings' list. Walked into a tiny bar, and after a beer, a Japanese gentleman walked in. I overheard him ask the owner why we were there, to which, he replied that he thought it was Koi. I interrupted, saying that I had been to the bar 4 years or so ago, and that it was indeed Koi. It quickly transpired, that this gentleman was Takeo Mizuta, the owner of the Takeda Sanke that won AJS GC in 1999. Many a story followed on after that. I could probably write a book about it! :-) (Nigel, Tom, and Mizuta-san pictured below)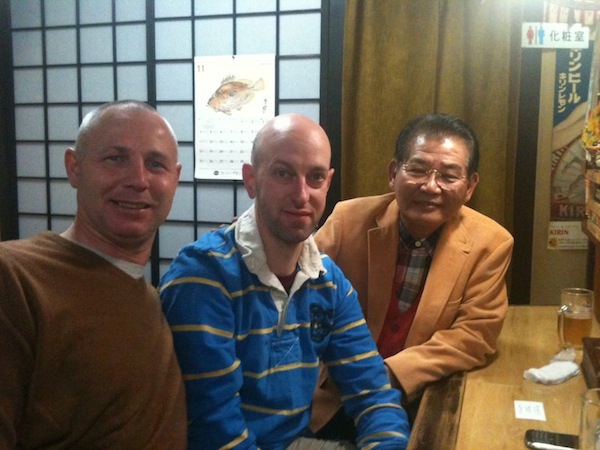 There's much more to this than what I have written above. But, to cut a long story short, she was supposedly owned by Shinji Matsumoto, but in fact belonged to the gent we met last night (pictured above). Takeda-san sold the Koi to Takeo Mizuta when Nisai (and as maybe male), and then grew the Koi to 91cm. Takeda-san wanted to enter her into the AJS, but Mizuta-san said that he didn't want to enter her in his name, as it would reflect badly on his company image. So, Takeda-san suggested they enter her in the name of another customer, Matsumoto-san, owner of a Golf and Country Club. Mizuta-san had many very nice stories to tell of the late Takeda-san last night. However, the foundation of even going to that bar last night runs back to another memorable evening there on my previous visit, some 6 years prior to that. I will write a much longer story on this later, probably for magazine use.

Anyway, two years ago, Mizuta-san figured that his Koi were causing him to be too distracted from his work. Whilst he still has the pond, it is empty of Koi, as he gave them all (about 35 fish) to his friends (gave, not sold).

After taking us out to another bar last night as his guests, Mizuta-san explained to me, that he is retiring from his position in his company in April next year, and becoming CEO. He said that he hadn't visited Takeda Koi farm since the late Takeda-san passed away. He said that he wished he could join us this morning in visiting the farm, but had to go to Daisen. He asked me to talk to Ya-san on his behalf, and to explain that he would like to go back there again from next year, to start buying Koi once again.

This morning, when we arrived at the farm, Mizuta-san was there. He said that because of our chance meeting the previous evening, his curiosity got the better of him, and he had to swing by to catch up on things at the farm!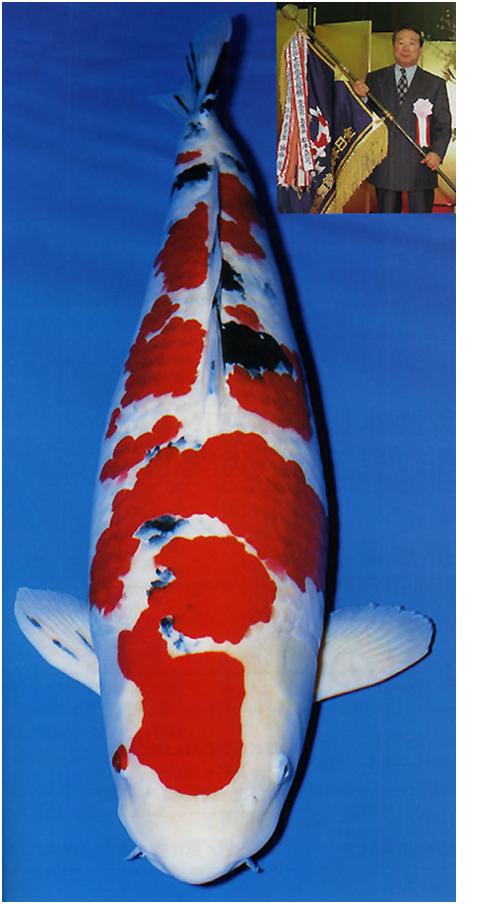 3rd November - Kyushu again...
Saturday, 03 November 2012 23:43
The last few days have been very interesting, but incredibly hard work! Since the last blog update, we have been to Ueno, and Okawa, and are now back in Hiroshima! The following fish are ones we have bought, and are for sale. The Showa is Nisai from Ueno, and 55cm. Very very high level!

The Sanke is from Okawa, and Sansai. The quality is incredible, and my feeling is that she will grow up big very quickly. She is currently about 65cm. I will check this when I am back there...
The Kohaku is also from Okawa. She is Nisai, and has just won Grand Champion at the Fukuoka Young Koi Show last week. She is very much Tategoi despite the win!
Friday, 02 November 2012 00:17
After the 28th, we went to the Momotaro koi farm to preview the koi that were to be auctioned the following day.

At the auction, I managed to find one very nice Kohaku of 56cm. Sadly though, this was all. On the evening after the auction, I collected another hobbyist from Okayama station, and we headed off to Matsue to meet Iitsuka-San (the boss) for dinner at about 8.30pm.

On the following morning, we viewed a number of koi of various ages, as contemplated purchases.

Yesterday morning, we dropped in at Takigawa Koi Farm, and bowled some lovely specimens!

We then arrived at Omosako Koi Farm at around 2pm, and viewed some Nisai and sansai. A beautiful sansai was purchased, simply stunning! I will get a photo of her later...

Last night, we dined out with Omosako. There are three of us here now, consisting of myself, and two hobbyists. One of those, is Nigel, who won the trip with us at the South East 'All England Koi Show'. I think Nigel is somewhat mesmerized by what he has seen so far!...

As I sit typing this, we are about to hit the road, and head to Ueno. It will be a long day...
Sunday, 28 October 2012 02:58
I'm at Takigawa Koi Farm, and have been chatting a hobbyist 'Tokoyama-San' who I have known many years. Knowing that I buy very high class Shiro Utsuri from Omosako, he asked if I had bought any this year? At this point it occurred to me that I had forgotten to put photos up of one that I bought a few days ago. This koi is extremely high level, and up until that point, was the best one harvested so far. She is from the parent 'Patra' and measures 50cm. Her body type is of a standard that you very seldom see in Shiro Utsuri, and as such should grow up Jumbo very quickly.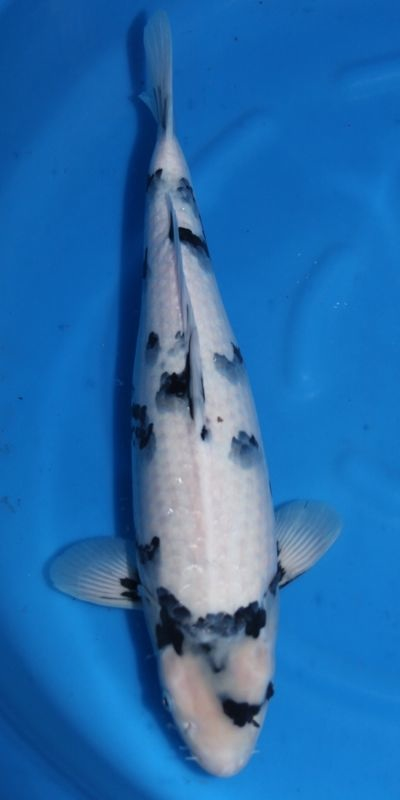 27th - Heading Back To Hiroshima
Saturday, 27 October 2012 08:19
Today was a day with no schedule, so having stayed in Matsue again last night, we had a leisurely day at the farm up until lunchtime, an then hit the road for the three hour drive to Mihara as I need a bigger car for Monday onwards, with the next party of people.
Friday, 26 October 2012 03:09
Well, back at Matsue Koi Farm this morning, and have purchased 5 new koi, four of which are pictured below. It's been a very good day, so far... :-)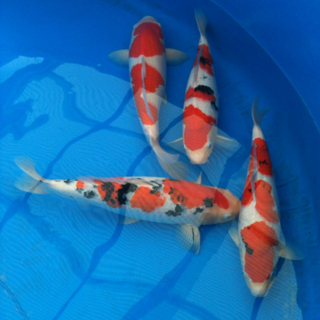 Thursday, 25 October 2012 05:14
Well, this morning was an early start, as it was one of Omosako's Sansai/Yonsai mud pond harvests, of which two of our Koi were to be pulled up. There was some 114 Koi in this big mud pond, and the results seemed to be particularly good. Sadly, the only Koi not to come up, despite three times netting the pond, was one of ours. Hopefully, she will come up in a few days time...

In a few minutes, we will hit the road back to Matsue, as I need to obtain some more Koi, and also need to see some of our customers Koi that were harvested yesterday. It's all exciting stuff!!! :-)
24th, back at Okawa, briefly...
Wednesday, 24 October 2012 02:22
We stayed at Okawa Koi Farm last night, and this morning have dropped by the farm so that I can take photos of a customers Koi, and also a very nice Nisai that I am contemplating buying. I can't put the photo of the Nisai up here, as it's bad practice to do such things when the Koi hasn't been purchased. But, the Koi below, is one I bought when Tosai back in Spring 2012. She was featured on Mark Gardner's DVD that he made of my April Tategoi hunting. I sold her shortly after, when still Tosai. She is now Nisai, and very beautiful!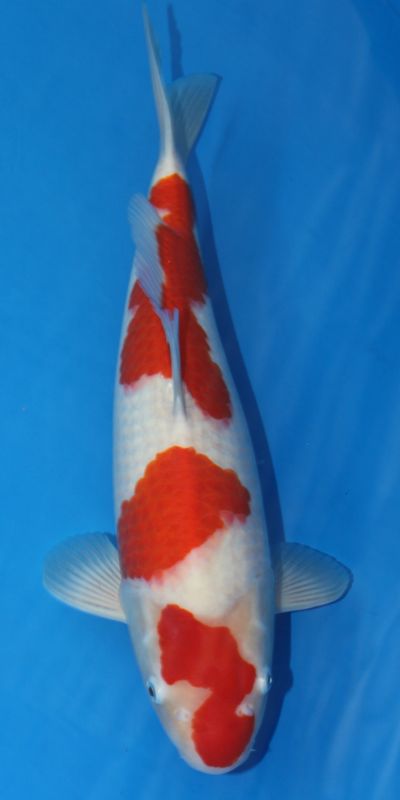 This afternoon, we will drive up to Omosako. I have two Koi to be harvested there in the morning, so it promises to be an exciting day... The rest of today though, will be driving! ;-)
Tuesday, 23 October 2012 03:58
I have this morning purchased a lovely Okawa Kohaku of 52cm. She is of extremely high quality.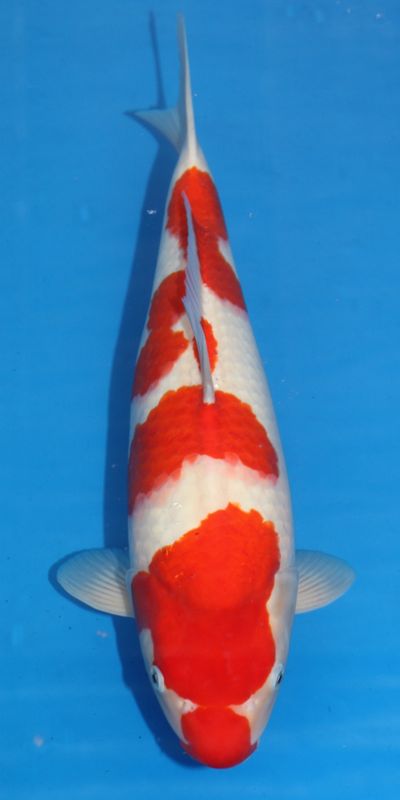 In the afternoon, we went to Ueno, and I bought one Showa, and a truly amazing Tancho Showa, albeit extremely expensive! She is also very big, at 56cm, and certain to grow Jumbo very easily.The Showa is 52cm Nisai, and has much promise for the future.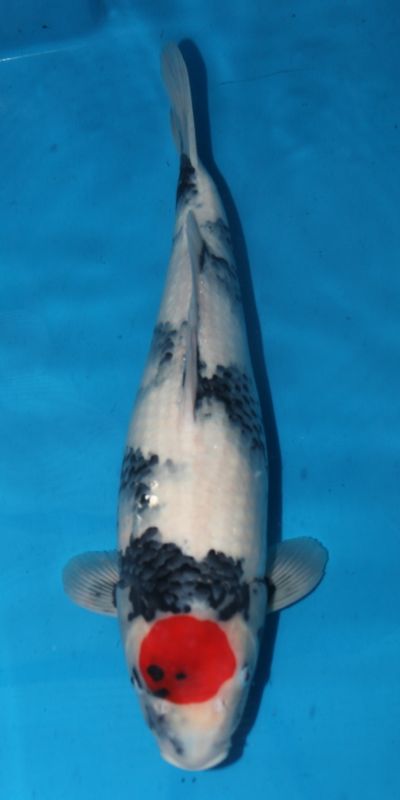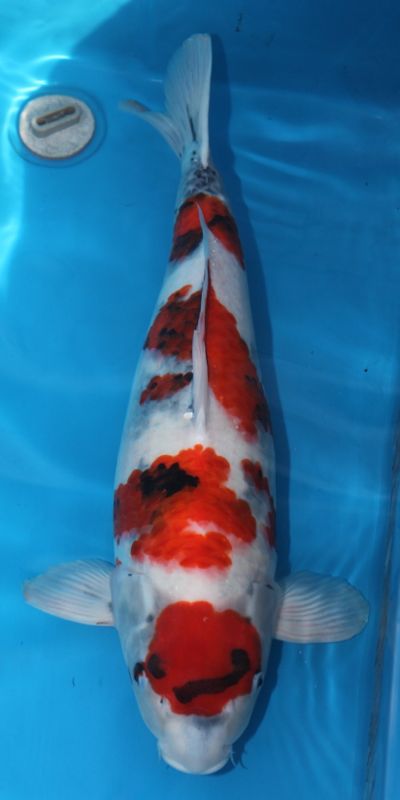 Monday, 22 October 2012 10:12
Arrived at Okawa this afternoon, and have bought two Nisai so far, both 52cm. Am going out to dinner now, so more updates tomorrow...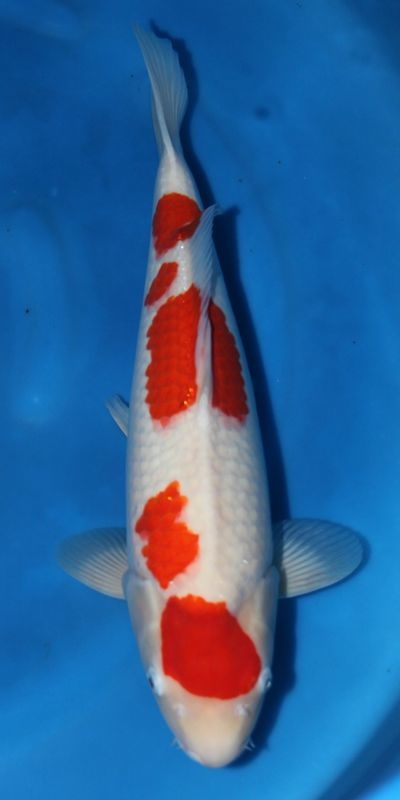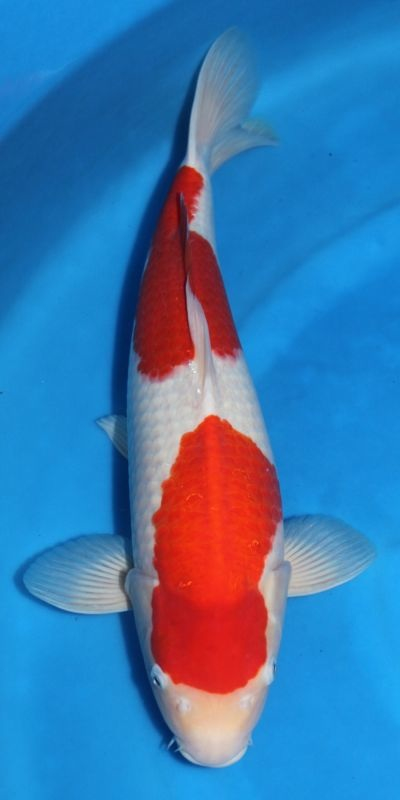 Sunday, 21 October 2012 06:32
Well, this morning at Matsue worked out great! They bred from a new Sanke parent set last year, the result of which are quite a lot of very promising Sanke. To get this many good koi from one breeding is somewhat surprising. The bodies of these koi are very nice, with beautiful beni, and superb Sumi. Skin is also very pure with excellent shine.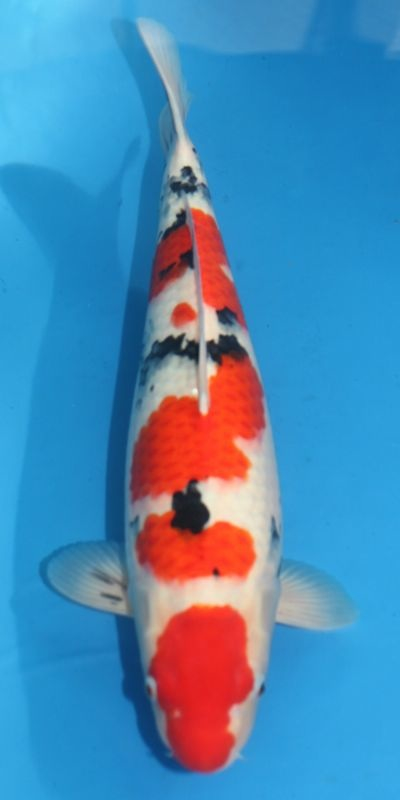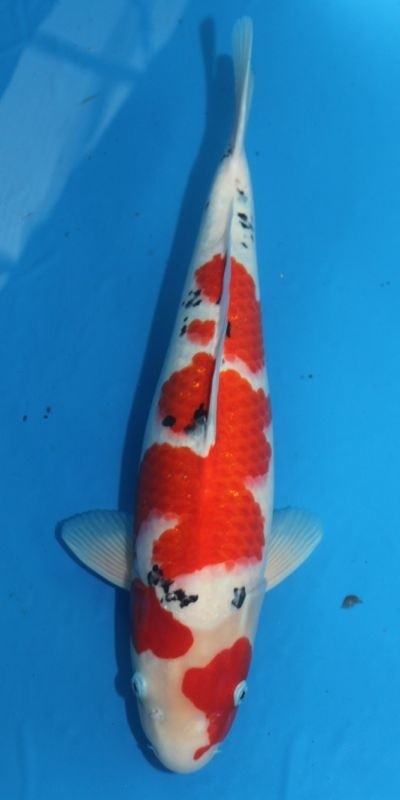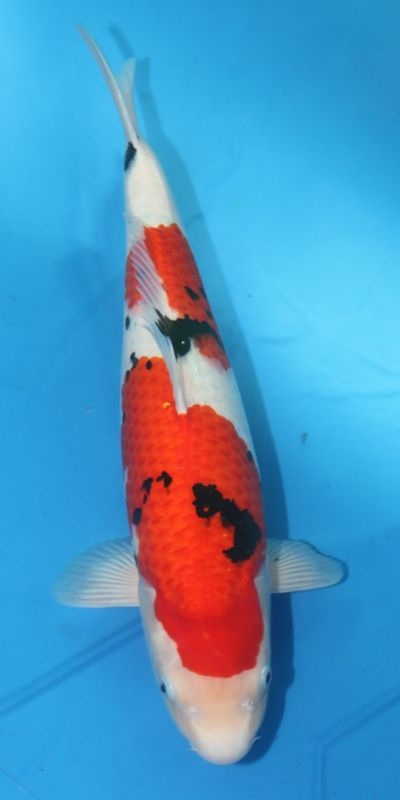 Saturday, 20 October 2012 23:14
Sadly, I had no Internet connection on the hotel, but have managed to get pics onto my phone to upload. The koi pictured is from Takigawa Koi Farm, being female, nisai, and 50cm. The koi is not so big right now, as she was grown from small Tosai in a small mudpond as one of a hundred koi. Despite this she grew very well in the early part of the season, but the pond was then overstocked. As such, I think that a koi with this kind of quality and body type will grow extremely well.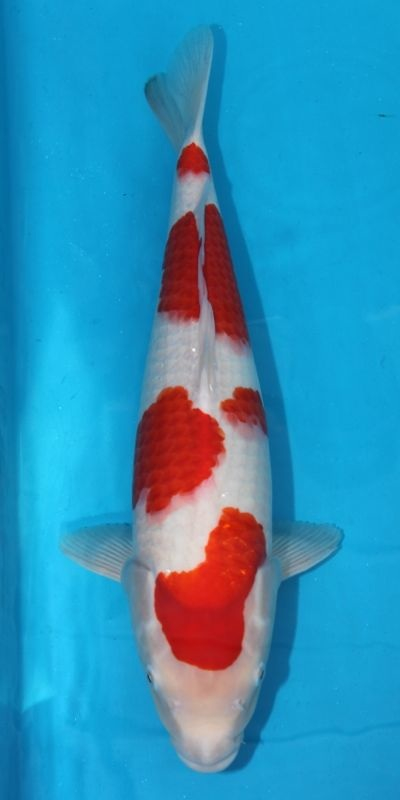 I am now at Matsue, and contemplating some more koi...
Friday, 19 October 2012 11:32
Well, last night was my Birthday, so I hooked up with an old friend and had a great time in Hiroshima city. Then, this morning, I headed back to Takigawa Koi Far, to see all the Nisai he harvested yesterday. I managed to obtain three very good Kohaku, two of which are pictured here, the third I will get photos of in the morning. These two Koi are quite reasonably priced, and extremely high quality, with great prospects for the future.
Friday, 19 October 2012 00:43
Well, I started buying Koi today at Matsue. These three Koi are incredibly high level Nisai females. I am very excited about these Koi. Of course, the Kohaku are good, as can be expected of Matsue. But, the Sanke is just sublime!
17th/18th, Takigawa - Matsue
Wednesday, 17 October 2012 23:55
Well, yesterday morning, I was back at Takigawa Koi Farm. There is one Koi there so far that I like, but not much is harvested as yet. Then, yesterday afternoon I drove to Matsue. I am back at the Farm this morning, and hope to find one or two Koi that I like. This afternoon, I will be traveling down to Omosako...
16th October - I've arrived...
Tuesday, 16 October 2012 02:02
Well, I have just arrived at Osaka, but my suitcase hasn't! I'm on my way to Hiroshima, where I will pick up my car. The weather is blue skies and 20c, sorry about that ;-)