Thursday, 22 March 2012 18:19
Flowfriend pumps are the ultimate pump on the market. We have been running these at Yume Koi since 7th of September 2011, and have decided to add them to our inventory of products because they are simply in a class of their own!
We started running these at Yume Koi in their 'Pre-production' form, and have since sold more of these pumps than anyone else in Europe. As such, we have a full spares inventory, and the special tools required to carry out warranty repairs. We even carry a spare pump 'just in case' a customer should have a failure. But, despite having now sold a very substantial number of these, we have not had a single problem with them.
We are so confident in these pumps, that we are offering our own 3 Year Warranty.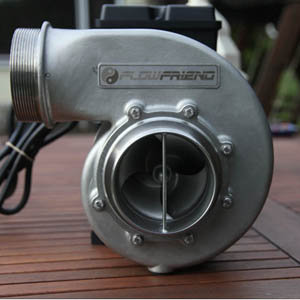 What is it that makes these pumps so very special?
Industrial build quality from a factory that builds pumps for Nuclear applications
Stainless steel pump head and impeller
Variable speed
Impeller 'screw' design makes the pump also suitable for relatively high head
Maximum flows of 70,000 lts per hour
In Bakki Shower applications, power consumption is less than half that of other pumps
Silent operation with no pipework vibration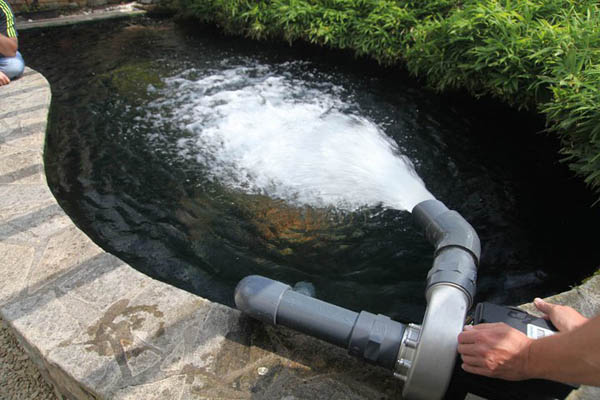 At Yume Koi, we have these running with the following results...
32,000 lts per hour of flow over Bakki Showers, with only 185w of power consumption (set at 1500rpm)
42,000 lts per hour of flow over Bakki Showers, with only 305w of power consumption (set at 1900rpm)
How do the above figures stack up against the other pumps we are running?...
Super*** 15,000 on Bakki Showers flow 11,000 lts per hour at 210w
Blue *** 240 set to give the same 11,000 lts per hour draws 168w
A Flowfriend gives us almost three times as much water at 185w. Yes, it is a little over double the price of the Blue ***, but in our application, it does the work of nearly three of them for the same power.


The Flowfriend can be set at speeds up to 2550rpm in 10rpm increments, so can be fine tuned to exactly the flow you require. This is a 'one pump suits all' solution.
All this for an RRP of £??? !!! Please call us for our competitive pricing.